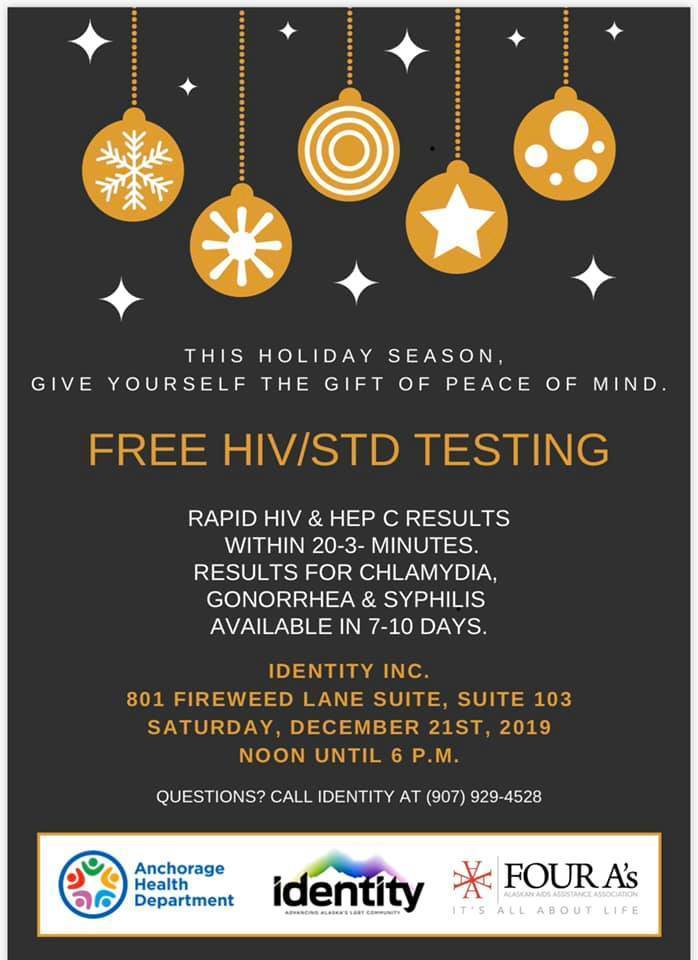 FREE STD/HIV Testing Days
Free!
Description
On December 21st, Identity is again excited to host a Free ALL DAY Confidential STD/STI testing event!

What:
Free testing for:
- HIV and Hepatitis C (get the results while you wait!)
- Gonorrhea, Chlamydia and Syphilis (we will call you with results!)

Who:
YOU!
This testing is for everyone who is sexually active or who injects drugs. LGBTQ+, Straight, ANYONE!

When:
Saturday, Dec. 21st from noon to 6 pm

Where:
Identity's NEW office (801 W. Fireweed Lane, Suite 103)

No appointment needed, just walk- in any time.
Testing will take less than 30 minutes.

This event is brought to you by a partnership from The Anchorage Health Department (DHHS), the Alaska Aids Assistance Association (Four A's) and the State of Alaska HIV/STD program.
Event Date/Time
Saturday, December 21, 2019
12:00 PM – 6:00 PM
Location
801 W. Fireweed Lane, Suite 103